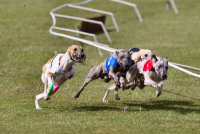 My interest in photography began with wanting to photograph my racing dogs, whippets in fact. Many of the galleries on this site, as you will see, feature various types and breeds. The common aspect in all is the movement particularly in the racing whippets.
As my dogs have grown older and become less competitive a further outlet for my camera activity has developed. I am now building a mixed portfolio of horse pictures as these animals are high on my list of favourites and demonstrate both power and movement.
Show jumping and cross country are to be my chosen genres and visits to these events interspersed with county and country shows, not to mention the odd polo match will keep me busy for the forseeable future.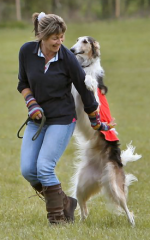 A word now about the selling of prints.
I am fortunate in being able to use the finest quality photographic equipment, I am though very much a hobbyist/enthusiast. I have sold many prints of my work, especially of the dogs I have pictured. I now no longer actively sell prints. At equestrian events, for example, I am in the company of photographers whose living is reliant, to a degree upon the selling of photographs. Thankfully I have no such reliance.
I do however reserve the right to supply the odd print to persons who contact me on this site.
I look forward to you being able to share in my experiences and my love of dogs and horses through the lens of Chris Doyle Photography.

BACK TO MY ROOTS THIS WEEKEND!
YES, NEXT SUNDAY WILL SEE ME IN HAMPSHIRE FOR A MEETING OF
THE BRITISH SIGHTHOUND FIELD ASSOCATION. LURE COURSING AT
KINGSCLERE. I HAVEN'T BEEN TO A MEETING IN OVER A YEAR SO IT
WILL BE GREAT TO GET BEHIND THE CAMERA AND SEE SOME DOG
ACTION. I OF COURSE ENJOY THE HORSES BUT RUNNING DOGS IS
WHERE IT ALL STARTED FOR ME AND IT WILL BE A DAY TO SAVOUR!
WATCH FOR THE PICTURES.